NASPO ValuePoint Temporary Employment Services
With our many years of proven expertise in delivering a comprehensive temporary staffing service for all job categories to the public sector, DatamanUSA maintains a multi-year NASPO ValuePoint® Temporary Staffing Master Agreement. This enables us to offer world-class temporary staffing services in the Information Technology, Administrative, Industrial Workers and Professional Services to participating state and local governments, transportation authorities, and others.
What it is: The NASPO ValuePoint Management Board recently approved a nationwide contract which allows state and local government organizations to have a master agreement for Temporary Employment Services. The RFP was led by New Mexico and was developed with sourcing team involvement with members from three states: Nevada, Oklahoma, and Oregon. NASPO ValuePoint staff provided project oversight.
The NASPO Temporary Employment Contract serves the following categories:
Information Technology
Administrative
Industrial
Professional Services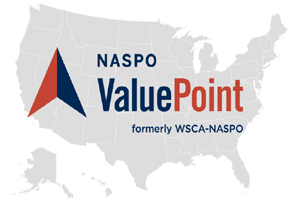 Why use the NASPO cooperative contract?
There are many benefits to cooperative contacting. Collectively, public sector organizations can leverage their spending through a single solicitation that obtains best value pricing and superior contract terms.   NASPO ValuePoint emphasizes best value from its contractors considering price, quality, reliability, warranties, and service while protecting states' interests with favorable terms and conditions.
Contractors also benefit considerably by avoiding the repetitive bid preparation expenses of bidding time and again on the same solicitations for different jurisdictions. Contractors also factor in greater volumes for multiple jurisdictions when determining their pricing. These savings are then passed along to the states.
Public Sector Organizations also benefit from the lower administrative costs of processing solicitations by leveraging the expertise of staffs across state boundaries.  Instead of many organizations soliciting for the same goods or services, one state takes the lead for one solicitation while other states take the lead for other solicitations.   This division of labor allows government organizations to share their resources and more efficiently achieve their business goals. NASPO ValuePoint reimburses agencies for all costs of leading and administrating NASPO ValuePoint, as well as participating in sourcing teams.
Additional Information
For More Information on the NASPO Temporary Employment Services contract or to view the awarded DatamanUSA proposal please visit the following links: Contract Information: http://www.naspovaluepoint.org/#/contract-details/83/overview/general DatamanUSA Proposal: http://www.naspovaluepoint.org/#/contract-details/83/contractor/516 Contact us for more information: contact@DatamanUSA.com
About NASPO
The National Association of State Procurement Officials (NASPO) is a non-profit association dedicated to advancing public procurement through leadership, excellence, and integrity. It is made up of the directors of the central purchasing offices in each of the 50 states, the District of Columbia, and the territories of the United States. NASPO is an organization that helps its members achieve success as public procurement leaders through promotion of best practices, education, professional development, research, and innovative procurement strategies.